I remember it like it was yesterday. Bryan and I had just gotten engaged, and he had to take a work trip to Houston with his brother. It was hard for us to be apart considering the excitement of what had just happened in our lives. So we called often and talked into the wee hours of the night. One evening he called me, "Kelly, you have to listen to this, I know you're going to love it!" And I did, and it was none other than Jack Johnson's voice singing Tomorrow Morning over the phone to me. (okay, it was the cd player, but that's how I felt ;) Couldn't be a more perfect song, huh!?! Friends had been telling Bryan for years he had to check him out, but for some odd reason he never did. It was divine, and I'll never forget it. And right then and there my obsession with Jack Johnson began!
So, let me just say real quick I love Jack's music because it's truth. He sings of what's real, scary or not. Love - it's hard, but we still fight for it, War - the battles we fight in this world, as well as within ourselves, Peace - we can make this happen, People - oh how our ways are strayed, what we "value", Television & media & how corrupt it is, etc. etc. etc. I could go on & on about the ways he has expressed what's on my mind in such a touching way. Music is the soundtrack to our lives, and if only I could count the amount of times a Jack Johnson song has been the perfect music to accompany a scene of my life. It's so divine to me.
So now, fast forward 6 years from when I heard that first song, and I have the opportunity to go to a Jack Johnson concert! Um, YEAH!!
I make the trek with
Abi
, and oh my so many awesome things happened!!
I can't even begin to express my excitement from the events we experience on this page. Words can't do it justice. If only you could be there hearing our screams, and singing to the tops of our lungs, and our big HUGE corny smiles. Yeah, you would've been entertained for sure! :)
So I will go ahead with pictures. We couldn't bring our cameras in (ugh!) so we only have pics from Abi's awesome phone, but it works!
Waiting in line to be the first 5,000 so we can get a wrist band to be in the pit.
Which we did get our wristband, after fighting through a sweaty nasty mob. I get chills thinking about how nasty it was now. After we conquer that feat, we head to a small stage behind the stage for a secret concert we heard about. Hmmmmm..... who could it be?
It's
Zach Gill
from ALO!! He just released a solo album, which is AMAZING! He is so fun, and an awesome entertainer! I fell in love with his music, so definitely go check him out! (BTW he's also the piano player, back up singer, random instrument player for Jack:)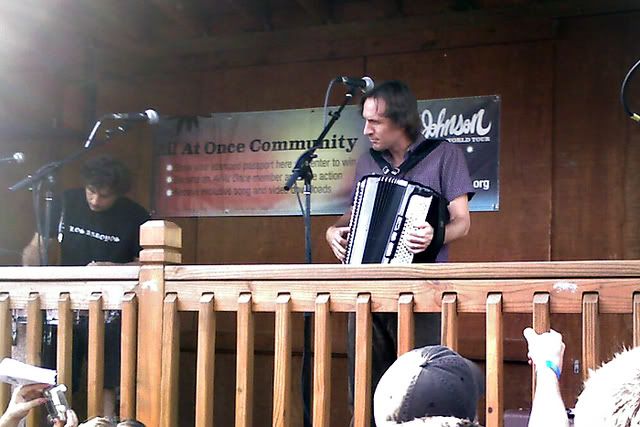 Then he announces that he is going to bring out his good friend..............
JACK JOHNSON! AHHHHHHHHHHHHHHH!!!!!!!!!!!
We could not believe it. I mean we're at a stage with 50 other people, only 10 feet away!!
It was like our own personal show. Amazing!!!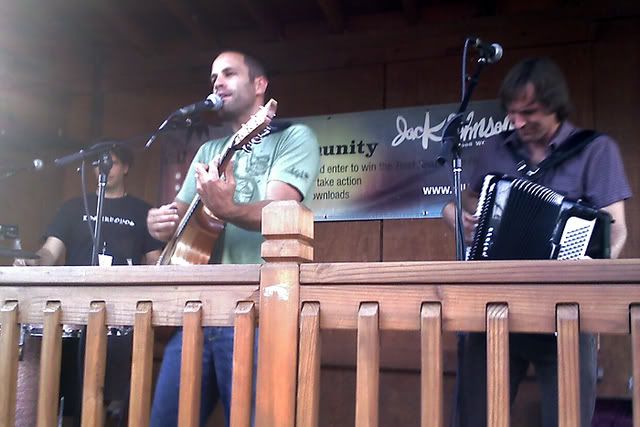 Our excitement!!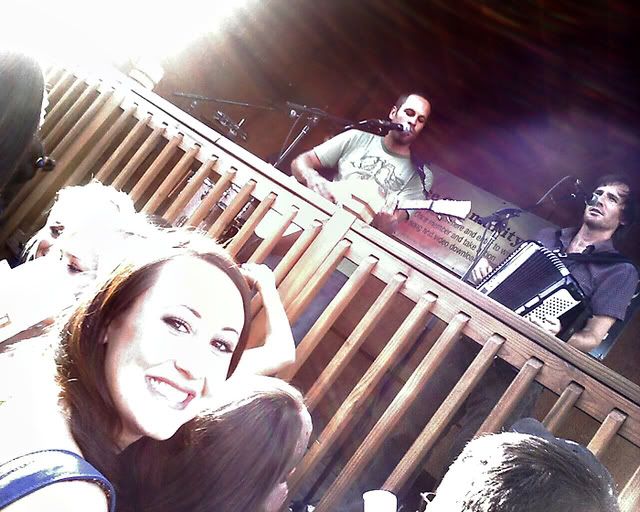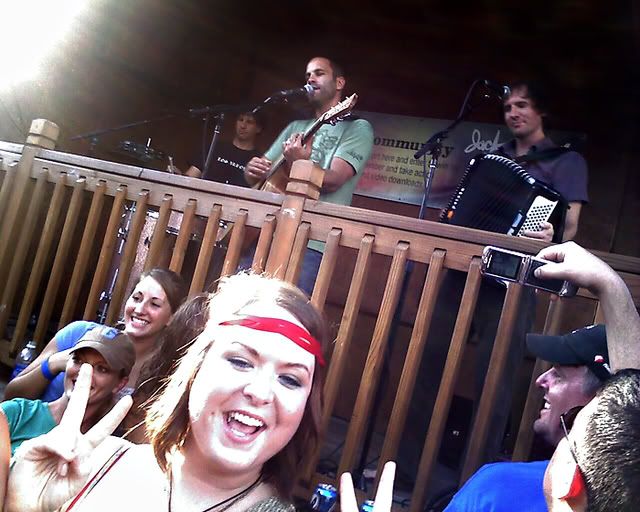 Then we got to meet, chat with, get autographs & take a picture with Zach Gill.
SO COOL!!!!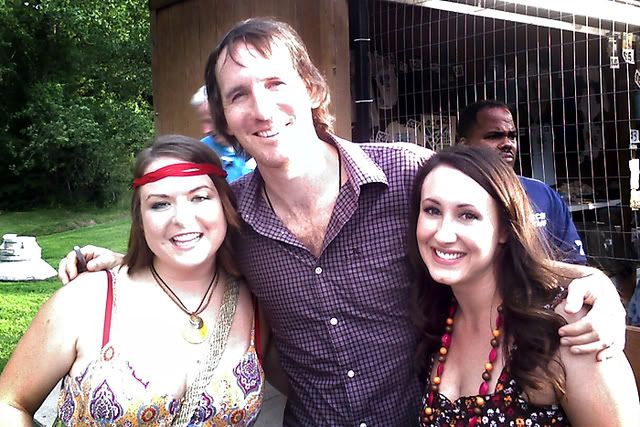 And he didn't just sign my bag, he drew this cute little self portrait. I have to say I felt special!
Then we headed down to work our way through the mob in the pit. It wasn't easy, but we ended up direct center, right in front of Jack, only about 4 rows back in people. Amazing once again!
Let me also say before we headed to the pit we stopped at the photo booth & took pics, cause we're corny like that. Right before the show they displayed about 15 pictures on the big screen from the booth, and yeah, WE were one of them! A picture of us on the big huge screen in front of 50,000 people. It was kind of cool, and just another thing to add to our amazing list of what had happened that night.
I highly recommend you check out
Jack's website
to see all the great things he's doing to help our environment & make this world a better place.
It was a once in a lifetime experience for sure, and I will never forget it!
Abi, thanks for going & making it so fun, awesome, crazy, etc!!! I love you girl!!!